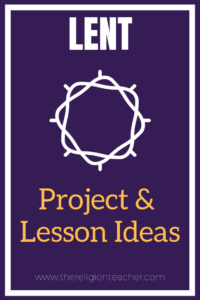 Forty days.
We have forty days to help young people grow into a deeper relationship with Jesus Christ during Lent. How do we make the most of our time with them?
First, think about some ongoing Lenten projects you can do with the students this year. How can you check in with them each time you see them to track progress of their journey to Jerusalem together with you during Lent? I offer a few project ideas below.
In addition to the ongoing Lenten projects, set aside some time for individual lessons you can plan throughout Lent to help students enter more deeply into the amazing opportunities for spiritual growth that the Church offers during Lent. I offer five lesson ideas below, which are included with dozens of resources including videos, worksheets, quizzes, and prayer ideas in The Religion Teacher's Lenten Activity Pack.
Class Project Ideas for Lent
Lenten Journal
A journal can be a great way to keep track of your progress during Lent. During the week of Ash Wednesday, discuss with the students what they will give up for Lent this year. Either create together a collection of papers to make a journal or encourage them to use a special notebook to write in each day during Lent.
You might suggest that they simply write about the experiencing of giving something up (or adding something during Lent). They could even keep it short to just one sentence or one paragraph. What did they give up? What was hard about giving it up today? What did you do to avoid it?
Instead of focusing on the Lenten commitments, they could also focus on the three pillars of Lent. Have them write one example the ways they practiced prayer, fasting, and almsgiving each day.
Lenten Calendar
Calendars are often more popular during Advent, but why not give students a calendar to track their progress during Lent? There are a lot good Lenten calendars on Catholic blogs. For example, here are some popular Lenten calendars from Catholic Icing and Busted Halo.
Operation Rice Bowl
Catholic Relief Services organizes a program each year called Operation Rice Bowl, which is a great way to practice almsgiving during Lent. The idea is that you keep a cardboard bowl in your class or in the families' homes and put in spare change to help those in need throughout the world. The bowl itself and the many prayer resources at the CRS website are great ways to help encourage solidarity with the poor during Lent.
Learn more about Operation Rice Bowl here.
Other Lenten Activity Ideas
For years this collection of Lenten Activities, which I update annually, has been used by thousands of religious educators to plan fun and creative activity and project ideas for Lent. I hope you check this resource collection out and use some of the ideas you like best.
Lenten Lesson Plan Ideas
When I updated The Religion Teacher's Lenten Activity Pack, I simplified the resources into five effective lesson plans to help students learn to live their faith with passion and purpose during Lent.
Here are the five lessons in the activity pack. The video lessons for each lesson plan are freely available, but the worksheets and printable activities and prayers are only available in the activity pack or to premium members.
Find these and all the videos for Lent in this Lenten Video Series.
Lesson 1: The Forty Days of Lent
Help your students learn the meaning of the word Lent and the name that the rest of the Catholic Church uses to more accurately describe what Lent is all about using this video:
Why is the number forty so significant? Share with your students some of the stories in the Bible that feature the number forty.
Lesson 2: Ash Wednesday
Why do we wear ashes on our foreheads on Ash Wednesday?
You can actually find a full example of this Ash Wednesday lesson plan here.
Lesson 3: The Three Pillars of Lent: Prayer, Fasting, and Almsgiving
In the Gospel reading on Ash Wednesday, we hear Jesus teaching about the three pillars of prayer, fasting, and almsgiving that we focus on in special ways throughout all of Lent. What do these words mean and how do we practice them during Lent? Be sure to share some of the ways you live out these three pillars along with this lesson on Lent.
Particularly focused on fasting, you might get this question from your students:
Why don't we eat meat on Fridays during Lent? Here is the answer:
Lesson 4: The Sacrament of Penance and Reconciliation
If you are teaching in a Catholic school or parish, then your students are likely going to be given the opportunity to go to a penance prayer service. Help prepare them to go to the Sacrmament of Penance and Reconciliation by sharing with them the main parts of process of penance.
In particular, help your students understand the full meaning of the word "Contrition" and the words of the prayer we say by making an Act of Contrition:
Lesson 5: The Stations of the Cross
Your students are also likely to be invited to participate in the Stations of the Cross during Lent. If not, give them that chance to take a pilgrimage through each station of the cross. Help explain the meaning of the prayers we pray during the Stations of the Cross and the history of this devotion itself.
Lenten Lesson Resources
The Religion Teacher's Lenten Activity Pack includes full lesson plans with activities, prayers, and graphic organizers for students to use while watching each one of the videos in this article. Download this resource today or become a premium member of The Religion Teacher to get this resource as well as access to hundreds of other resources exclusively for members.
This article was updated in 2019 and a previous version appeared in 2010 before almost all of the resources featured here were created.