This Ash Wednesday lesson plan is a part of The Religion Teacher's Lenten Activity Pack that you can buy on this website. This digital product includes seven lesson plans, nearly 20 worksheets, prayer ideas, and handouts to help students effectively learn about the season of Lent. Want a preview? Check out the Lenten Video Series that is used in conjunction with these resources.  
Ash Wednesday Lesson Plan Objectives and Assessments
SWBAT explain that ashes were used as a sign of repentance in the Old Testament. (Assessment: Class Discussion)
SWBAT explain why we wear ashes on Ash Wednesday. (Assessment: Ash Wednesday Quiz)
SWBAT make connections between what they decide to give up for Lent and the meaning of ashes on Ash Wednesday. (Assessment: Ash Wednesday Worksheet)
Ash Wednesday Learning Activities
1. Bell Work: Make a list of the things that you have in your life that you are thankful for (i.e. your iPod, your cell phone, your computer, your video game system, your new shoes, your favorite dress, etc.)
2. Prayer: Read the Ash Wednesday Psalm as a class. Announce the response, "Be merciful, O Lord, for we have sinned," and read Psalm 51 from the USCCB website.
3. Reading: Read aloud the story of Jonah and the city of Nineveh (Jonah 3:1-10). Ask students, "What were the signs that the people of Nineveh used to show their repentance?"
4. Video: Ash Wednesday. Have students fill out the video graphic organizer while they watch.

5. Direct Instruction: Review the answers to the Ash Wednesday graphic organizer.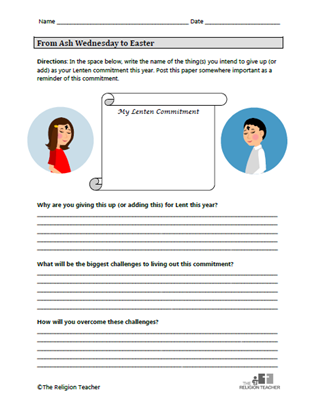 6. Ash Wednesday Worksheet: From Ashes Wednesday to Easter. Give students some time to write about what they have decided to give up for Lent this year. Remind them that we often desire things (even good things) that will one day become dust and ashes. We give things up for Lent to remember that all we have is a gift from God and that being with God and following his will should be our greatest desire.
7. Assessment: Ash Wednesday Quiz
Do you like this lesson plan and the resources to accompany it? Get instant access to dozens of other resources in The Religion Teacher's Lenten Activity Pack.