This Exodus lesson plan is adapted from Word on Fire's CATHOLICISM School Enrichment program, which offers resources for middle school and high school religion teachers based on Bishop Robert Barron's CATHOLICISM DVD Series. Bishop Barron's team has generously offered to share this lesson to spread the word about their wonderful educational resources. To learn more, visit CATHOLICISM School Enrichment.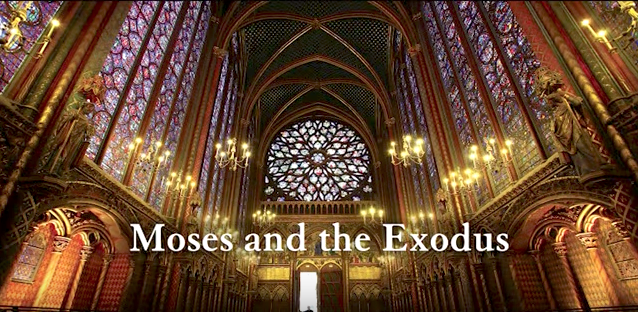 Exodus Lesson Plan
Lesson Objectives
Students will be able to . . .
Describe Moses' characteristic traits
Explain why the Exodus was necessary.
Analyze the source of the name "Yahweh."
Lesson Activities
1. Welcome the students with warmth and enthusiasm.
2. Begin with class prayer. This should help the students disengage from their preoccupations and have an open heart before God. You may choose to pray in a number of different ways, including with Scripture, with music, in silence, with traditional prayers, or with extemporaneous prayer that arises from the heart.
3. Watch the "Word on Fire" DVD vignette from CATHOLICISM and ask students to take notes using this handout: Exodus Note Taking Sheet.

4. Ask students to describe Moses on the handout titled "Why is Moses called "The Chosen One?"
5. Role-play the events at the burning bush in collaborative groups.
Other Activity Ideas
Write a journal entry titled, "My Life as an Israelite".
Introduce the Passover song, Dayenu. Have students write their own song of praise, freedom, or faith that highlights the experiences of the Israelites.
Answer the question: If you had been Moses standing before the burning bush, how might you have responded?
Watch the film The Prince of Egypt.
Lesson Assessment
Freedom Song Handout:Write song that highlights the of the Israelites
*You can download the full lesson plan here.
For more lesson plans on the Book of Exodus check out these Moses Lesson Plans.
GET THE EXODUS WORKSHEET COLLECTION
The Religion Teacher's Exodus Worksheet Collection will help students read and reflect on the most important stories from the Book of Exodus and the life of Moses.