The Memorare is a traditional Catholic prayer asking the Virgin Mary for her intercession to her son Jesus Christ.
This collection of activities offers a brief introduction to the meaning of the Memorare and a few ways you can teach it to kids.
The Memorare Prayer
Remember, O most gracious Virgin Mary,
that never was it known
that anyone who fled to thy protection,
implored thy help,
or sought thine intercession
was left unaided.
Inspired by this confidence,
I fly unto thee,
O Virgin of virgins, my mother;
to thee do I come,
before thee I stand,
sinful and sorrowful.
O Mother of the Word Incarnate,
despise not my petitions,
but in thy mercy hear and answer me.
Amen.
The Meaning of the Memorare
"Memorare" is Latin for "remember," which is the first word of the Memorare prayer.
As Catholics, we believe the power of intercessory prayer is so important that it extends beyond life on earth to the saints in heaven, particularly the Mother of God.
In the beginning of the Memorare, we praise the Virgin Mary for her constant prayers for us to her son. She will not turn us away if we ask for her to pray for us. We state our confidence in this fact.
In the second sentence of the prayer, we humbly turn to her as our mother. At the foot of the cross, Jesus said to Saint John, "Behold your mother" and to Mary, "Behold your son." Likewise, we turn to the Mother of God as our mother in prayer.
We turn to her in recognition of our sinfulness and ask that she pray for us through her great mercy for the Body of Christ. We ask for her to hear us and to answer us by bringing our petition before her son just as we pray for his help as well.
The Memorare Printable Worksheets
First, give the students some time to read through the Memorare.
Give them a copy of The Memorare Prayer Worksheet to reflect on the petitions they want to bring to the Virgin Mary.
Then, to help them recall the meaningful words in the prayer, give them a copy of this printable Memorare Fill-in-the-Blank Worksheet.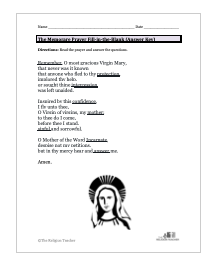 You can download both worksheets here:
The Memorare Prayer Activity: The "Emergency Novena" or "Flying Novena"
Pray the Memorare ten times in a row.
(Especially in times of greatest need.)
Here is why:
Saint (Mother) Teresa of Calcutta is known for her devout and effective prayer. She developed a practice of praying the "Flying Novena." (It has has also been called her "Emergency Novena" or "Express Novena" or "Quick Novena.")
A novena is usually a prayer we pray in a series of nine days straight, but when Mother Teresa encountered a very dire situation, she prayed her Flying Novena.
Instead of praying a novena for nine days, she prayed the Memorare nine times in a row.
But she didn't stop there. Mother Teresa prayed a tenth Memorare in thanksgiving for the answered prayer. She turned to the Virgin Mary with so much confidence that she "thanked" her and her Son ahead of time by praying the Memorare a tenth time.
Learn more about the "Flying Novena":
A Few More Memorare Activities for Kids
Here are a few activities to teach kids about the Memorare:
Get The Religion Teacher's Prayer Worksheet Collection
The Religion Teacher's Prayer Worksheet Collection includes thirty printable handouts to help kids meditate on the meaning of popular Catholic prayers and devotions. This resource features worksheets with meditations on the Hail Mary, Angelus, Mealtime Prayer, Acts of Faith, Act of Hope, Act of Love, Act of Contrition, Memorare, and more!