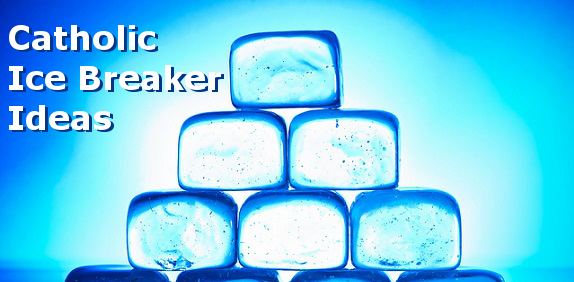 It is the beginning a new year and for many of us that means . . . fun Catholic ice breakers!
I know, I know, ice breakers aren't always the most exciting things to do, but they are effective. You want to build a community as quickly as possible so you might as well have a little fun while doing it. Ice breakers are a great way to get to know new people in new situations.
There is a lot that goes into staring the new school year off right. It is an important time for you to share your vision for the year. You want to get your students excited to be in your class and excited to come back again next time.
At the same time, you want to get to know new student names as quick as possible. What better way to do that than with fun ice breaker games?
Whether you are in a Catholic school, parish religious education classroom, or even a youth group, ice breakers can be a great way to get to know students' names help them feel comfortable with a new group of people.
Catholic Ice Breaker Resources
Check out the following websites and ice breaker ideas to use in your class this year. Visit some of the Catholic websites below and pick and choose the best ice breakers for you. Scroll to the bottom for an opportunity to download five of my favorite ice breakers and the ones I will be using this year.
The Religion Teacher Ice Breaker Ideas
Five, Fun First-Week Ice Breakers (Free Download)
Ave Maria Press Ice Breaker Ideas
The Body of Christ Small Group Game
Catholic Youth Ministry Hub Ice Breaker Ideas
LifeTeen Ice Breaker Ideas
Insight Ice Breaker Ideas
Ten More Ice Breakers for Your Youth Group (Insight)
All Ice Breaker Ideas (Insight)
Bonus: My Favorite Ice Breakers
I put together a one-page cheat sheet with five fun ice breakers that I like the most. It has brief descriptions of each one and they all help with learning new students names.
Download The Religion Teacher's list of Five, Fun First-Week Ice Breakers:
(image credit: digital mind photography)